First I'd like to welcome Splitface. For those of you who know him, he needs no introduction. For those of you who don't; believe me, he belongs here.
Man beats wife, repeatedly. Man (who shall heretofor be reffered to as dumbass) commits various crimes against mother and father in law as well. Police are called multiple times but no warrants are ever sworn out, nor is he arrested. Dumbass moves next door, dumbass' antics continue. Dumbass takes exception to my checking on his wife's well being. Dumbass is arrested, prosecuted, and convicted. Dumbass is placed on probation. Dumbass violates probation. Dumbass is here serving a 18 month sentence.
On that note, dumbass' kid was on W.I.C. This brings about the question of people who can't care for kids having them as well as the government subsidizing bad and irresponsible behavior. If the logical conclusion is that the child would starve without aid, then the question is at what point is the parent's negligence criminal? Furthermore, if the aid was not needed then why was it provided? Does is basically amount to beer money? Thanks for helping dumbass get all liquored up government!

Dumbass' weapons of choice: tire iron, axe, chainsaw. My weapon of choice: AK-47. Hurray for law abiding citizens with guns. Dumbass didn't care for my "machiiiine gun"…
Rand Paul is being criticized for his criticism. Rand critized the Civil Rights Act for imposing it's will on businesses. Of course this has some labeling him as a racist. Look, I hate racism but Rand is dead on here. It's not the government's right or role to tell a private business who they can and can't serve. If I want to open a business and say I only want to serve members of the Mexican Mafia, or Inuits, it might not be a good idea, it might be in poor taste but it should be my right as a business owner. Rights should not be granted by the government, they should be inherent.
Draw Mohammed Day is kind of a on again off again sort of thing. Basically people involved eventually start crapping their pants and bowing to pressure. Facebook pages go away, Pakistan has banned Facebook.com (my site was banned first so take that Facebook!) and now Facebook is thinking about joining the censorship bandwagon. I suck at drawing but here's my observance (not bothering to "draw" something new because it would suck as much):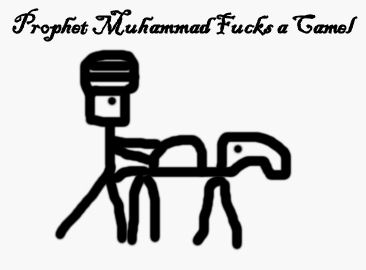 Possibly related posts: