And he got his own Wikipedia page:
http://en.wikipedia.org/wiki/Paul_(octopus)
For those of you who don't know Paul, he's a common octopus living in a tank at a Sea Life Centre in Germany, who is an animal oracle of soccer matches, usually international matches in which Germany was playing.  He came to worldwide attention with his 100% accurate predictions in the 2010 Worl Cup.
For the math-freaks: Assuming Paul's predictions were no better than fair independent coin flips, the probability of 12 or more successful predictions in 14 attempts is 0.65%. (179 to 1). And the probability of 8 successful predictions out of 8 attempts is 1/28 = 0.39% (255 to 1). The first three matches were in the group stage where the outcome could have been a win, loss, or tie, resulting in a less than 50% probability of getting the result correct. Whilst this highlights a small problem in the design of the task, it makes him being correct less likely, increasing the odds above those quoted here.
On July 12, 2010, Paul retired from making predictions. Paul's owners stated "He won't give any more oracle predictions – either in football, or in politics, lifestyle or economy. Paul will get back to his former job, namely making children laugh." As a reward for his accurate predictions, aquarium staff presented him with his very own replica World Cup trophy garnished with his favourite food – mussels.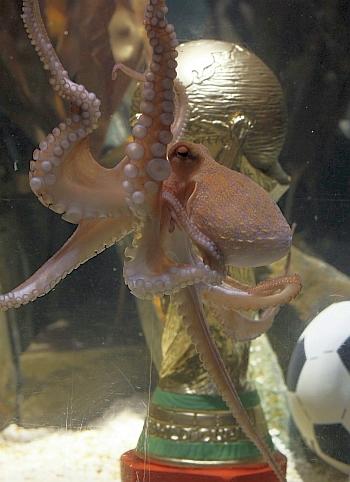 Possibly related posts: