Ok, here's a little story made possible by Google.  Let's start off with a relatively normal web site (maybe even a blog) that describes the ordering experience of the ARMY AK-47.
"Reasons for ordering/reviewing:
I ordered this gun because I am a huge fan of the classic AK-47.  I picked the ARMY AK-47 specifically because the CM.028 had lackluster performance, the newer and improved CM.031 was a modern AK-74M, and the JG only manufactures tactical models and the beta spetz.  …

Ordering Experience:
At first only gunnerairsoft, a Hong Kong-based dealer carried the ARMY AK-47, but recently pointact began carrying it.  Pointact is a wholesale site with cheaper prices, but a $100 minimum order.   Me and some of my friends ordered together to meet their $100 minimum order and our order was shipped quickly and satisfactorily. …

First Impressions:
I was overjoyed when the massive cardboard pointact box showed up at my house.  I sifted through the various guns my friends had ordered until I found mine, the ARMY AK-47…."
So far, so good. Nothing out of the ordinary.
"What hit me first was the anticipated box art. Yes, it does indeed say "The World's First Mentally Disabled Rapper."  Now, I've seen some Engrish in my time, but this takes the cake. What are they even trying to tell me? The world may never know.
Wow, I even got the "Laudability Package." Usually you have to pay extra for that.

After about an hour of laughing at the terrible Engrish, I finally opened the box.  Inside, was my AK-47 and its accessories, in all their shrink-wrapped, Chinese-made glory."
You may ask yourself at this point how this could have happened.  We have seen Engrish before, but are they really trying to tell us something, did they use Google translator, or did they simply Google a description for AK47 and that's what they found?
If you take some time and actually google it, you will find  .. Ta-dah!        AK47 "The world's first mentally disabled rapper"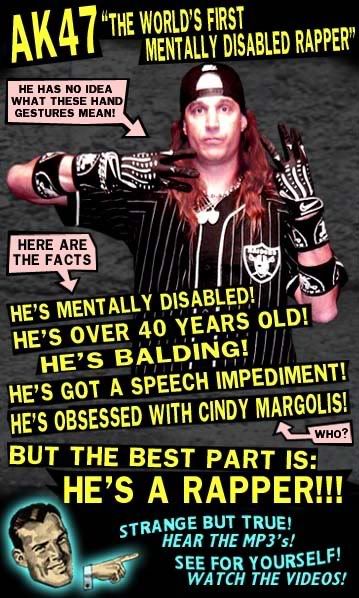 You can read more about the ordering experience here:
http://www.airsoftretreat.com/forums/index.php?topic=45673.0;wap2
Find out all you can handle about the rapper here:
Possibly related posts: